Name: Kuroba Kurogake
Gender: Male
Age: 38
Height: 5'7"
Weight: 145
Hair: Black
Eyes: Amber
Birthday: October 31st
Clan: Kurogake
Sexuality: Straight
Village: Village Hidden in the Mist
Rank: Special Jounin
Element(s): Water
Specialties:
Mippugan (密封癌):
General Appearance: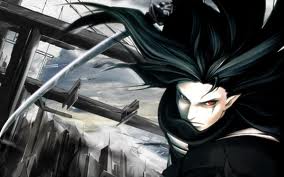 Personality: Kuroba is very calm and doesn't get angered easily, though he can be very frightening when he does.
Likes: Diligent students, sleeping, lazy days
Dislikes: Students who don't listen or are ungrateful
Motivations: To keep his clan name going
Fears: His village being destroyed, the apocolypse
History: Kuroba passed the Chuunin exams with flying colors, and was later promoted to become a Jounin. Seeing as he excelled in his ability to mentor and teach others through vigorous training, he was deemed a Special Jounin, and put in charge of his village's Chuunin exams.
Justsu/abilities: